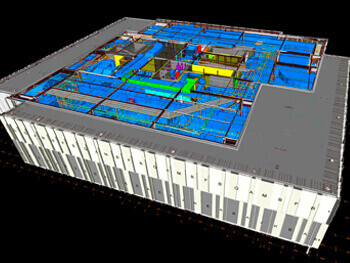 Heritage provides expert Building Information Modeling (BIM) services and technology solutions for its projects. BIM is today's fastest and most cost-effective project management strategy, especially for complex projects, whether new construction or remodel/renovation.
Before ground is even broken, the mechanical engineering team collaborates with the project owner, architect, and other construction team members to create computer-based three-dimensional models that are used to:
Identify and resolve technical issues early, avoiding additional costs or project delays
Coordinate scheduling
Take advantage of prefabrication opportunities
Eliminate rework
Optimize safety
Further, during construction, we use the BIM database to gather a wide array of building information, including architectural and construction drawings; electrical, mechanical, HVAC and other building system plans; mechanical and piping equipment installation and operation instructions, and more.
When we turn the building over to the owner, building managers can use this database as a valuable source of facilities operations and maintenance information, enabling them to maintain consistently optimum system performance.
3D Laser Scanning
We also provide 3D scanning of existing buildings. 3D laser scanning collects millions of measurable data points in seconds to provide pinpoint accuracy. The datapoints are dimensionally accurate, measurable, and shareable, so you can eliminate any guesswork.
Our BIM services provide a combination of features that help ensure faster delivery of better built facilities and significantly more efficient ongoing building management.