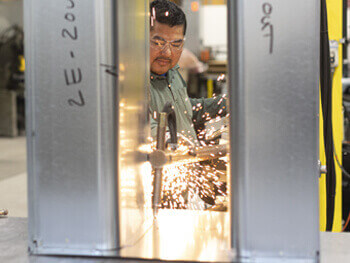 Heritage's fabrication expertise includes industrial HVAC ductwork, sheet metal, and piping fabrication production. We maintain a state-of-the-art 40,000 square foot sheet metal and 15,000 square foot piping fabrication facilities, where we produce tailored components for projects of virtually any type or size.
These custom fabricated industrial HVAC ductwork and piping assemblies are made of the highest quality materials and provide a consistent fit, enabling smooth installation, timely project delivery, and optimum cost control.
Sheet Metal Fabrication Services
Fully automated coil line fabrication
Capable of producing air systems of various gauges, materials, and custom construction requirements
Production capacity in excess of 5 million pounds per year
Industrial, Process, Air and Pneumatic Piping Services
We have the capacity to produce:
52,000 diameter inches per year of welding
100,000 diameter inches per year of threading
100,000 diameter inches per year of roll grooving
Furthermore, by delivering these parts and materials when needed, we help avoid delays, reduce jobsite clutter, and improve safety.
We are an affirmative action, equal opportunity, M/F/D/V employer, and currently have trade agreements with the following:
Sheet Metal Workers' International Local No. 28
Enterprise Association of Steamfitters Local 638 of the United Association
International Brotherhood of Teamsters Local No. 1205